Posted:
December 15th, 2008
By:
mojo
|
Under:
Advertising
,
Design
,
Politics
,
dismissed
,
people
|
Tags:
DJ Diabetic
,
Douchebag
,
jagoff
,
Obey Giant
,
Shepard Fairey
,
viral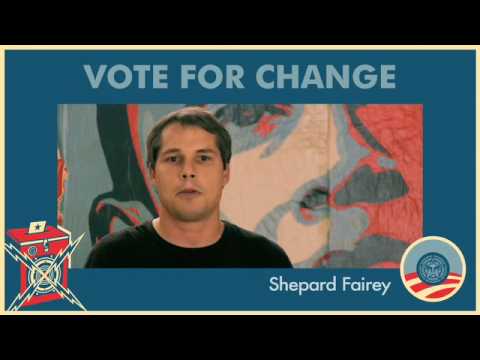 Take a look at this video. See Shepard Fairey there, sneeringly yammering on about how punk rock he is? Now tell me you honestly don't want to punch him in the face. I realize he's an easy target, given what a grandiosely pompous douchebag he is. But I'm just so rebellious and independent I can't resist.
He started out as a street artist. Everywhere I looked I saw his irritatingly ubiquitous viral Obey Giant stickers. Then he became a commercial brand. How the hell did the creator of a bunch of facile, formulaic postmodern wankery end up elevated to a pop culture icon? He's basically blowing his wad on every bus stop, every billboard… every goddamn surface in our cities. Cover your children's eyes! There's another puddle of Shepard Fairey's spoodge.
And now he's a fucking DJ. Can we stop stroking his ego please? He's not a taste maker, he's a chronic masturbator.
Before anyone BAAWWS about his diabetes, I know, I know. It's bad form to pick on a cripple. But honestly? Fuck that guy.
Shepard Fairey, you're dismissed.
Shepard Fairey: You Have Been Dismissed.
No related posts.
|
20 Comments »
---